Welcome to Immaculate Conception Parish!
---
We are located on Harlem and Talcott, tucked away on the Northwest Side of Chicago.
We see it as one of our top priorities to offer good, reverent liturgies every single week. In order to do that, we value hospitality, well-prepared music, and homilies that come from a genuine place of prayer. Worshipping God is done by a people of prayer who love and respect one another, so we would love to have you join us this weekend at IC!
Below is our Weekend and Weekday Mass schedules, followed by an example of our Weekend music, along with some photographs of our Church.
Weekend Mass Schedule
Saturdays @ 5:00 P.M.
Sundays @ 8:30 A.M. & *10:30 A.M.
(*For those unable to join us in-person, our 10:30 A.M. Mass on Sunday is also livestreamed from our Church.)
Family Mass @ 10:30 A.M. - (September through May)
*Opportunities for Confessions are offered every other Sunday morning between our 8:30 A.M. and 10:30 A.M. Masses (approximately from 9:30-10:15 A.M.) Special dates & times are offered during Advent & Lent.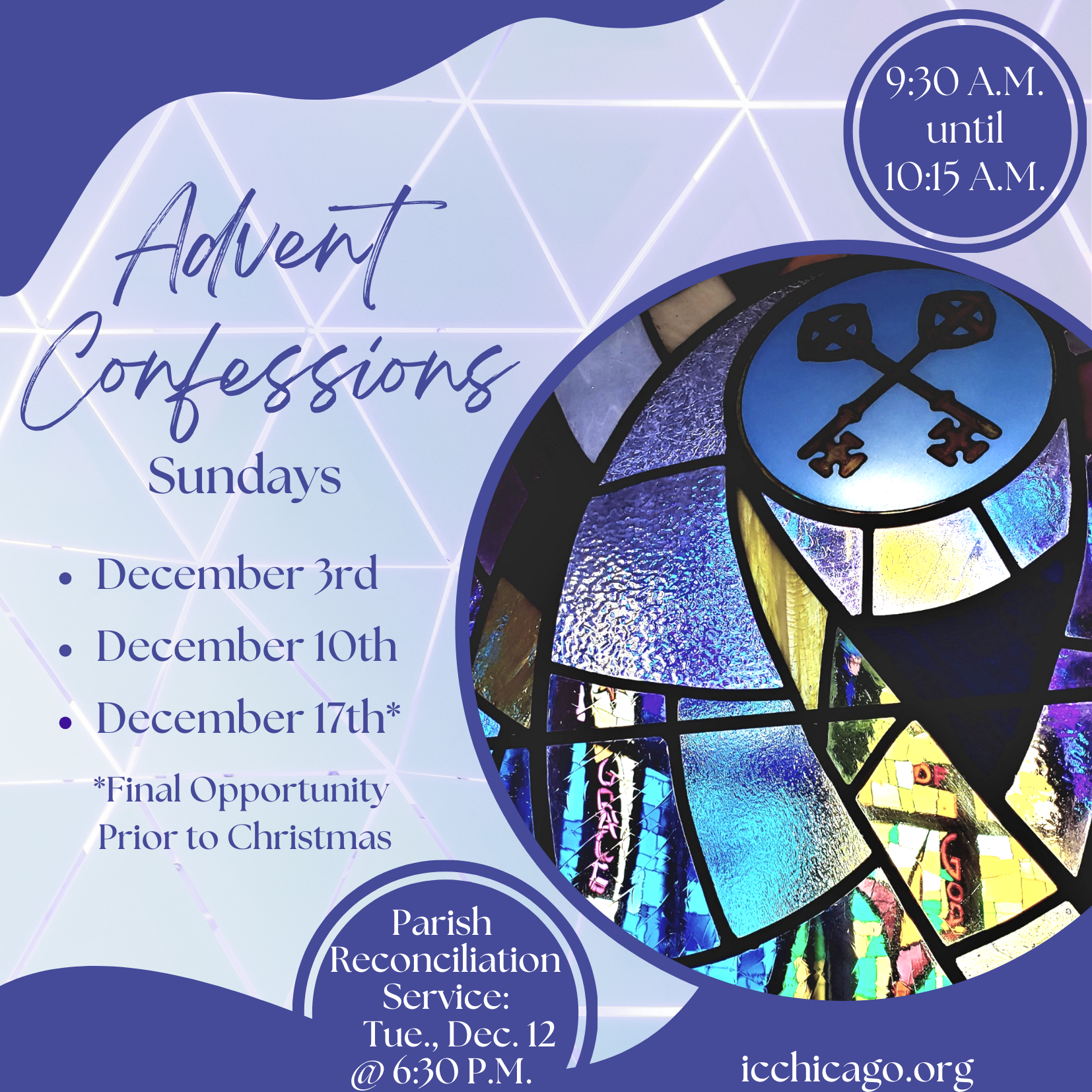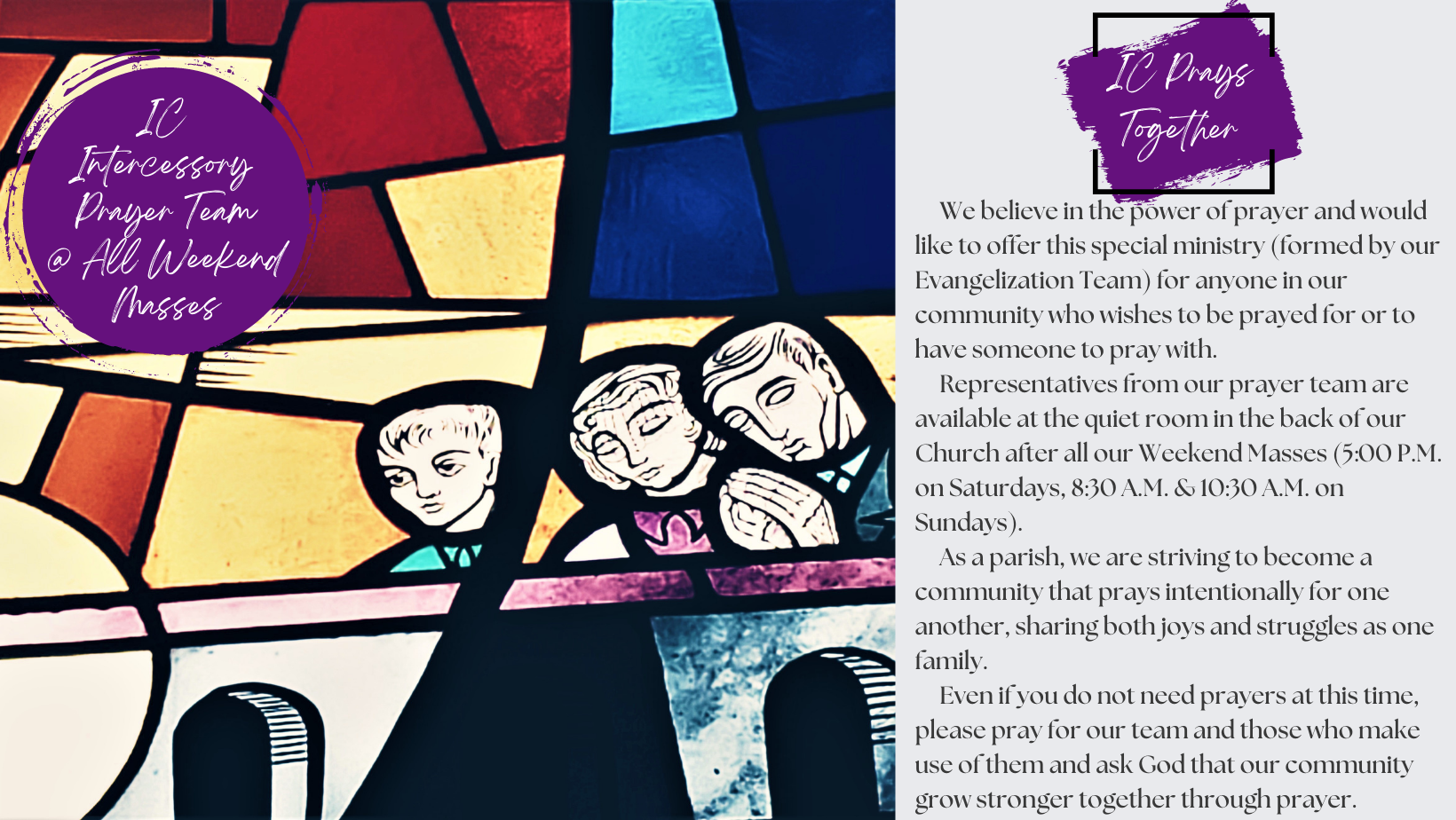 Family Masses @ IC
Family Masses are designed for the whole family, but our emphasis this year will be on our adults. While children will participate in prominent roles such as lectors, gift-bearers, and servers, we recognize that faith is something that begins in the home.
Mothers and Fathers are the first teachers of the faith, so we hope that along with our family Masses, you also see yourselves--the parents--as the ones who establish what sort of faith your child will have.
Please join us on the dates below, whether your child falls into these specific categories (or not.) Have your child support their friends with their presence. A light reception is offered after each of our family Masses.
Family Mass Schedule (September - May)
2023
September 17th - Recognizing New Families In Our Parish
October 15th - Confirmation Candidates
November 19th - IC Scouts
December 17th - IC Teen Club (Youth Ministry)
2024
January 21st - Music Ministry & Athletics
February 18th - Jr. National Honor Society
March 10th - Altar Servers
April 21st - Service Club
May 19th - First Communicants
Weekday Mass Schedule
Monday through Thursday @ 8:30 A.M. (In-Person)
Please note: Our Friday Daily Masses (including our First Friday Mass & Adoration @ 5:30 P.M.) have been temporarily suspended as of July 8, 2022, with the intention of resuming them when we either have a new Associate Pastor or consistent external help.
Feast Of The Immaculate Conception Of The Blessed Virgin Mary Mass Schedule:
Friday, December 8th:
8:30 A.M. - School Mass with Fr. Matt Presiding (In-Person)
6:00 P.M. - Evening Mass with Fr. Matt presiding (In-Person & Online)
(Hospitality Reception to follow in our Rectory Assembly.)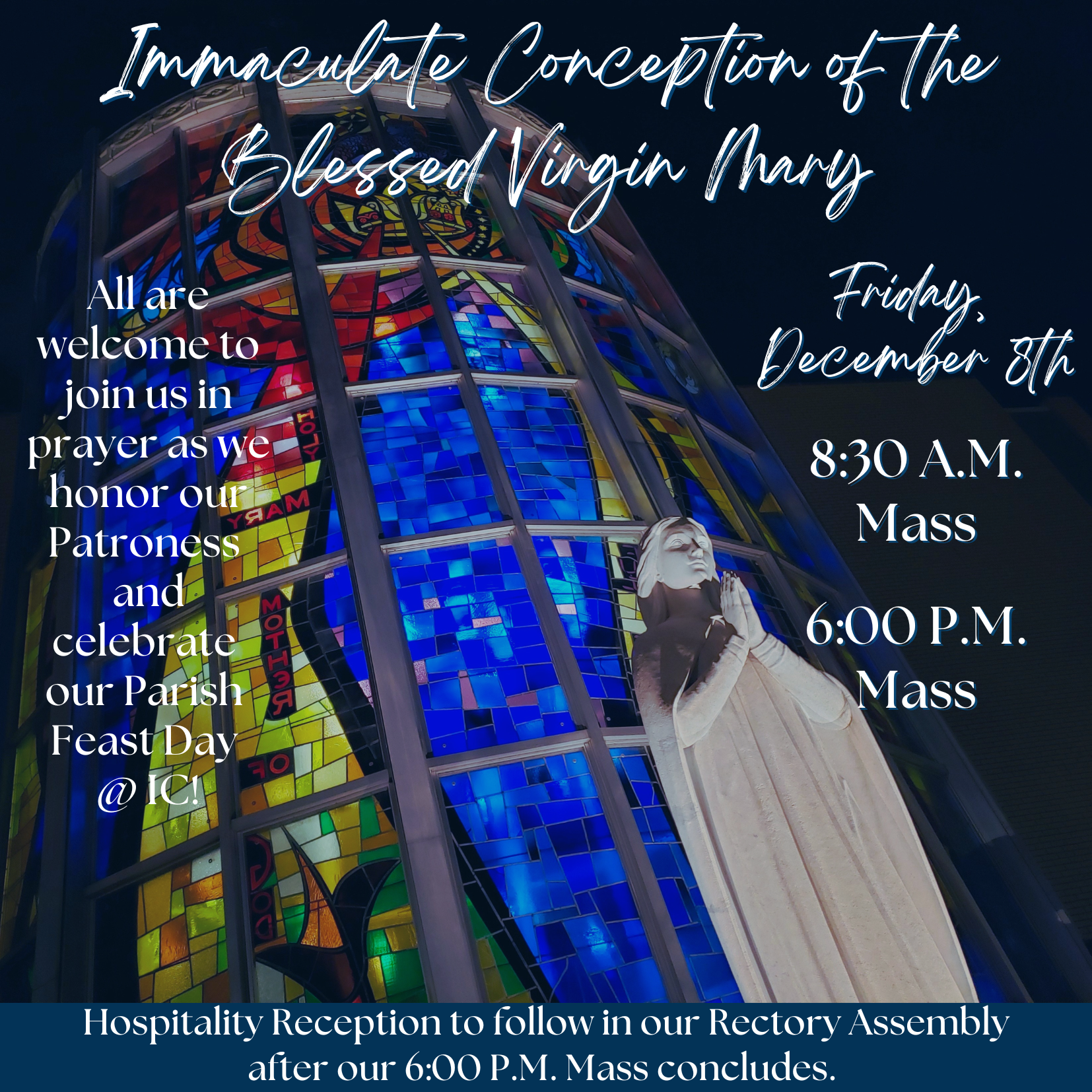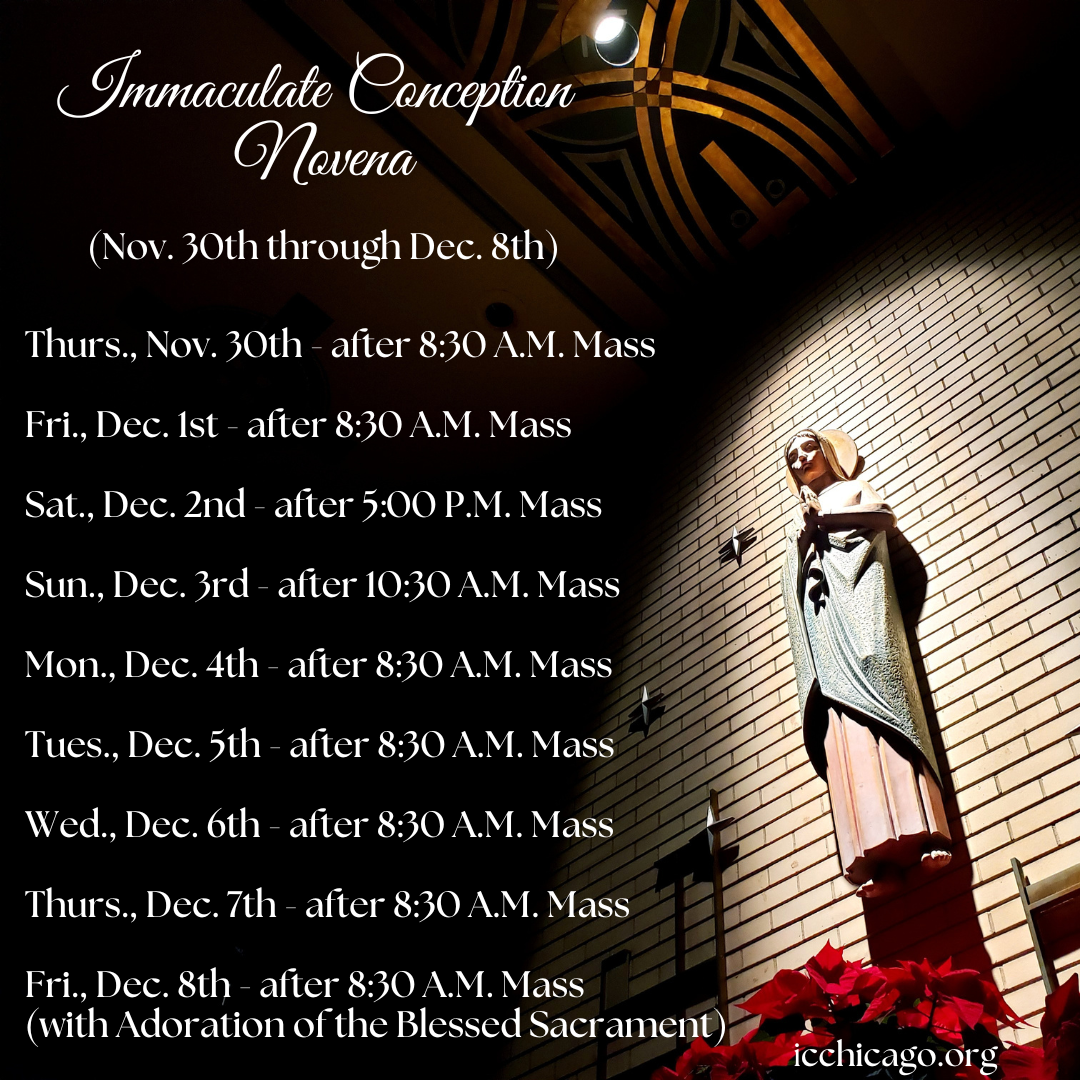 Christmas Mass Schedule:
Christmas Eve - Sunday, December 24th:
5:00 P.M. - Family Mass with Fr. Matt Presiding (In-Person & Online)
Midnight Mass - with Fr. Matt Presiding (In-Person & Online)
Christmas Day - Monday, December 25th:
8:30 A.M. - Mass with Fr. Robert Presiding (In-Person)
10:30 A.M. - Mass with Fr. Robert Presiding (In-Person & Online)
Examples of our Music here at IC
Pie Jesu
Be Still
Please listen to an example of the music we offer during our weekend Masses. This piece is entitled "Be Still" and is performed by our vocal quartet.
Do Not be Afraid
This piece is an example of what may be played during our Contemporary Mass. Although contemporary music often gets categorized as one type of sound, we do our diligence to find good, tasteful pieces in many varieties. Enjoy this piece entitled "Do Not Be Afraid," written and composed by Jeanne Cotter, and performed by our quartet, bass guitarist, cellist, and pianist.